Electrical Technology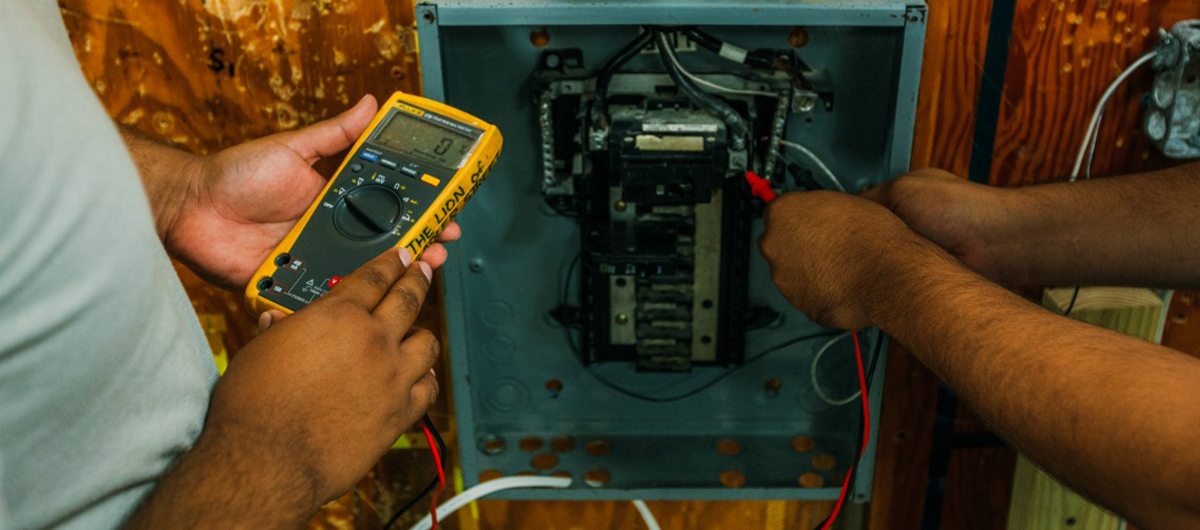 About the Program
The Electrical Technology program prepares students for employment in the electrical industry.
AWARD TYPES: Certificate Level 1
AREA OF STUDY: Construction Industry & Manufacturing
Program Outcomes
STUDENTS WILL BE ABLE TO:

Demonstrate knowledge of safety rules and regulations. Demonstrate the proper use/selection and maintenance of hand and power tools and measuring instruments.

Interpret, decode, and apply information found in electrical codes, blueprints, schematics, wiring diagrams, specifications, and applicable documents to perform, test, and troubleshoot wiring projects.

Describe the operation, uses, and applications of electromagnetic and Solid State controllers and related control devices to perform, test, and troubleshoot industrial control projects.

Utilize computers and related software to translate, perform, test, and troubleshoot control schemes.
Program Information
General Requirements
The Electrical Technology program prepares students for employment in the electrical industry. There is an increased demand for trained electricians to work in the installation, maintenance, and service of residential, commercial and industrial electrical systems. Rewarding career opportunities exist in the areas of industrial automation and fiber optic installations. The program provides comprehensive, theoretical and hands-on training to meet the industry's continued and changing demands for qualified personnel. Students are required to purchase tools and books.
Students successfully completing any of the certificates listed below may apply a maximum of 21 semester hours towards an AAS degree in Construction Technology - Craft Management Specialization. For certificates with fewer than 21 semester hours, additional courses in Construction Technology, Business Administration, or other related disciplines may be required.
In addition, please note that a student may only earn one Occupational Skills Award (OSA) per academic year.
TSI testing required prior to first enrollment for all AAS degrees and Level II certificates.
Employment
There are 18,312 Electricians employed in the Greater Houston Area. This number is expected to increase by 5.5% over the next four years.
The estimated annual job openings is 656 jobs a year.
Median Wages - $21.97 hourly, $46,000 annually
Resources
Search for a Electrical Technology Professor or request more information
Get in touch
Kris Asper
Electrical Technology
Hours of Operation: Mon.-Fri. 8am-5pm