Top of Home Page
Welcome to HCC Southeast
Houston Community College's Southeast College has locations at Angela V. Morales Bldg., Felix Morales Bldg., Workforce Building, Cosmetology, Learning Hub and Felix Fraga Academic Campus. The college also includes a Small Business Development & Entrepreneurship Center.
Welcome from the College President
On behalf of the faculty and staff of Houston Community College- (HCC) Southeast it is my pleasure to say WELCOME, BIENVENIDO, HOAN NGHÊNH, HUĀN YÍNG!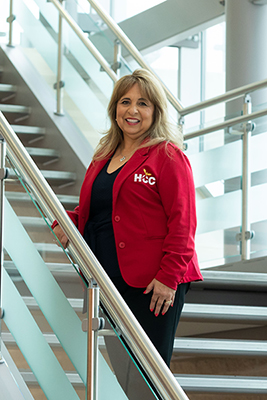 Congratulations on your decision to pursue higher education—you are making an investment that will prove invaluable for the rest of your life. For over 50 years, HCC has maintained a reputation of academic excellence fostered by dedicated faculty, innovative programs, and outstanding support services. Whether you are planning to transfer to a four-year institution, gain skills for a better paying job, or earn a credential to help you get a job quickly, HCC has a program for you.
We have devoted faculty and staff members who have been chosen because of their exceptional teaching and expertise in their field. We work as a team to assist students to achieve their educational and career goals and we strive to an educational atmosphere that is welcoming, supportive, and caring. HCC also offers a full college experience with many opportunities to get involved. With a variety of student clubs and organizations and an active student activities calendar, there are endless ways to network, develop leadership skills and explore new interests.
Our faculty and staff will work closely with you because you are so much more than a student to us; you are a member of our HCC family. From your first moments on campus to the day you walk across the stage for graduation and join the ranks of our distinguished alumni, our staff and faculty will be with you every step of the way.
Come join the HCC family. We are here to help you whether this is your first college experience, or you are returning student. We look forward to working with you!
Best wishes,
Dr. Frances Villagran-Glover, D.A.
HCC Southeast College is located in the East End section of Houston, formally known as Houston's Second Ward. The essence of the East End District is deeply rooted within the culture and connections of the region. The cultural richness and tenacity of its community members are an essential part of the college.
HCC Southeast College opened its doors in 1992 and welcomed over 2,000 students in its first semester. Two years after opening its doors, HCC Southeast College dedicated its first building to one of the finest Hispanic businessmen and civic leaders of the East End, Mr. Felix H. Morales. Over the years, HCC Southeast has grown to serve the needs of a growing community. In 1999, a second building was built and named in honor of Angela V. Morales, mother of State Representative Christina Morales, wife of Felix H. Morales, civic leader, and philanthropist. The continued growth of students and community activities led to the construction of a state of the art 90,000 square foot facility which is named in honor of late HCC Southeast President Dr. Irene Porcarello.
Presently, HCC Southeast College has a total of two full campuses, the Eastside Campus, and the Felix Fraga Campus. The Eastside campus is composed of seven buildings including a covered parking garage and a state-of-the-art Student Life Center. The Felix Fraga Campus is composed of two buildings, the Felix Fraga Academic building, and the Felix Fraga Science STEM building. In partnership with the Houston Independent School District (HISD), the Felix Fraga campus welcomed the opening of the Early College High school in 2006.
HCC Southeast College's commitment to excellence continues by offering our community three Centers of Excellence (COE) which include Material Science and Smart Manufacturing, Logistics and Global Supply Chain Management, and Education Professions.
Instructional Locations
Find a campus in your neighborhood.
Connect with Southeast College

Southeast College
Contact Us
Eastside Campus: 713.718.7000
Felix Fraga Academic Campus: 713.718.2800
6815 Rustic Street, Houston, TX 77087