NCCER Scaffolding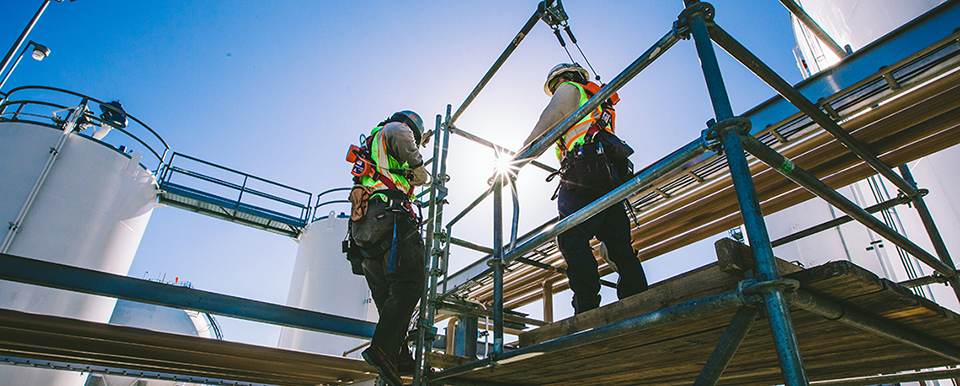 National Center for Construction Education and Research (NCCER) has created a Scaffolding standardized training and credentialing program that allows organizations and companies to track the qualifications of their craft professionals and/or new hires through the NCCER registry system. This course allows foundational knowledge to be acquired about stationary, mobile and suspension scaffolds, as well as the tools and equipment used in the industry. Trainees also learn best practices for safety on the job site and mathematical applications that will be used on the job.
Schedule
Class

Start Date

Class

End Date

Class Days

(Meeting Pattern)

Class Start/End Time

Class Title

2/13/2023

3/9/2023

M-Th

9:00 a.m. - 2:00 p.m.

NCCER Core: Introductory Craft Skills

3/20/2023

4/13/2023

M-TH

9:00 a.m. - 2:00 p.m.

Industrial Scaffolding
*Scroll to see more
Program Information
Overview
Entry-level scaffold builders assist with constructing a secure scaffold to act as a working platform for construction and industrial projects. After the completion of those projects, demolition of the scaffold is required. Entry-level builders are also responsible for loading and unloading tools, material and equipment to/from the job site while conducting safe work procedures.
Training Modules Cover:
Introduction to the trade
Trade safety
Trade tools & equipment
Supported Scaffolds
Mobile Scaffolds
Suspended Scaffolds
What are the prerequisites?
Entrance Requirements
18 years or older.
Course completion of NCCER Core: Introductory to Craft Skills
Trainees must pass a drug test.
Trainees must supply and wear steel-toed boots to all classes.
Trainees must wear appropriate clothing such as work pants and a work shirt to all classes.
Physical Requirements
Must be able to lift up to 50 lbs without assistance.
Must be able to work on your feet over a period of time.
Must be able to climb ladders and stairs.
Must be able to manage heights.
Must be able to wear protective equipment and tools.
Must be able to tolerate outside climate conditions.
To request more information about this course click on the link below to fill out and submit a questionnaire form. A member from the Industrial Technology & Energy department will contact you as soon as possible.
Request More Information
Steps to Enroll
If you already have an HCC student ID Number, then skip to Step 2.
STEP 1. Online Admission to Houston Community College – Please click on the "Apply to HCC" button below to start the online application.
Or
Standard Admission to Houston Community College- Please complete CEU enrollment form and submit by email to hcc.ite@hccs.edu. (A member from the department will contact you)
STEP 2. To enroll in class - Log in to your student account. On your Student Homepage click on Continuing & Adult Ed Classes. Use the 5- digit CRN [Class Nbr] that corresponds to the course you wish to register for.
STEP 3. Pay for the course(s) - From your Student Homepage click on Financial Account to pay online.
Resources
View the current schedule or FAQ's
Program Director, Andrew Johnson III
CE Industrial Technology/Energy
555 Community College Drive, Houston, TX 77013